Get to Know Your Pet Better than Ever Before
Your cat or dog is unique and that means their care should be, too. Orivet offers many different tests that can identify your pet's breed, assess their risk of health conditions, and give you information about why they behave the way they do.
Orivet even provides pet owners with a lifestyle plan, personalized to your pet with guidance on nutrition, weight management, veterinary visits, and much more. What more could you want?
It all sounds perfect, but does Orivet really tell you everything you need to know about your pet? Can it accurately identify breed types and help you understand their health risks? That's what we wanted to find out, too.
We've reviewed and researched all of Orivet's kits to see whether they're worth your (and your pet's) time and money. And for the most part, Orivet delivers. But it slipped up in a few key areas, especially breed identification. For a more accurate representation of your pet's breed, we'd suggest Embark instead.
Test Your Pet's DNA with Orivet!
Tests for Pet Owners, Breeders, & Veterinarians
If it's test choice you're after, Orivet certainly delivers. And it has a variety of tests depending on if you're a pet owner, breeder, or veterinarian.
For Breeders & Veterinarians

Orivet has a dedicated website for breeders and vets, with more than 300 dog breed tests and 107 cat breed tests.
These full breed profiles analyze traits, characteristics, and genetic diseases specific to certain breeds so you can effectively determine which traits and health risks may be passed onto litters.
You can also buy many of the tests individually, which is perfect if there's only one health condition you're concerned about. The tests are all quite pricey, but there are very few other companies that offer tests specifically for breeders and veterinarians.
For Pet Owners
Pet owners also have plenty of test choice, although it's clear that Orivet is more geared towards dogs than cats. There's no cat breed test which is disappointing, but apparently, it's coming in the near future. Here's a quick summary of the tests on offer.
Geno Pet 5.0

–

Identifies dog breed percentages, screens for 200+ genetic diseases, and provides an online lifestyle plan with nutritional suggestions and routine planning.

Breed test & life plan

–

Determines your dog's breed and the health risks associated with their breed, age, weight, gender, and lifestyle.

Health screen & life plan

– A test each for cats and dogs identifying unique traits and risk of 200+ genetic diseases, plus access to an online lifestyle plan.
Choose Your Pet DNA Test from Orivet!
Two Quick Swabs & No Extra Fees
Your kits are always shipped free of charge to your home and they come with a prepaid envelope, too.
If you order any of the kits for pet owners, they come with all the equipment you need for sample collection, including two saliva swabs and even a drying stand for the swabs in between collections.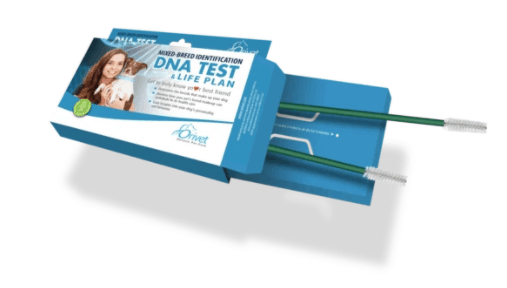 With the breeder tests, you have to order swab kits separately. I'm unsure why the breeder tests don't come with saliva swabs. They're free to order, just don't forget to add them to your bag before you checkout.
Taking the swabs is really easy. You have to massage the swab against the inside of your pet's inner cheek for around 10 seconds, then repeat with the second. Put each swab on the drying rack for 10-15 minutes, then once dry, you can place it in the envelope and mail it back to the lab.
If you're a breeder, Orivet recommends that you use a veterinarian or approved agent for sample collection so that your results can be registered as "Approved Collection Method".
You get an email to tell you when your sample is being processed, which is usually within a week of returning. And you can actually track the status of your sample from your online dashboard which is always helpful.
One thing we did notice is that breeders and veterinarians can order tests from anywhere in the world, but the pet owner kits are only available in the US right now. If you need worldwide shipping, we'd recommend one of Wisdom Panel's tests instead.
5 Standout Features of Orivet
Breed Identification & Ancestral Lineage
Orivet offers a comprehensive breed identification kit that compares your dog's genetic makeup to over 350 breeds. With over 15,000 samples in the database, Orivet should be able to accurately identify your dog's breed.
The list even includes some rarer breeds that our researchers hadn't seen from other companies, such as Glen of Imaal Terrier and Hokkaido Inu. And the result is a percentage estimate of every breed in your dog's DNA to as low as 1%, which is displayed in a chart on your online dashboard.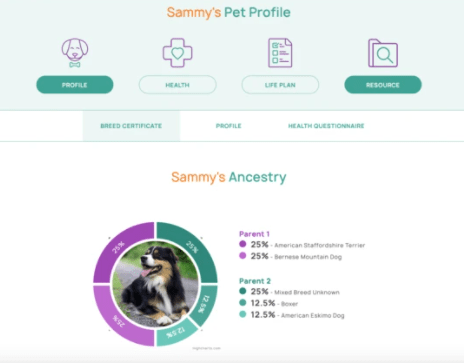 It actually shows you which breeds come from either their mother or father, so you can see which side they inherit their mix from.
Your report also includes an ancestry report that goes back three generations, to your dog's great grandparents, with predictions on the breeds in their ancestry line. With Wisdom Panel you can go back one step further to great-great-grandparents, though.
Uncover Your Pet's Breed with Orivet!
Your Pet's Traits & Behaviors
Orivet helps you identify the breeds in your dog's DNA, but it also allows you to learn more about how they influence your dog.
Click on any of the breeds from the percentage chart to get a detailed description of the breed and where they come from, plus what characteristics they have. This might include characteristics like muzzle, tail, and coat length, coat type, and overall build.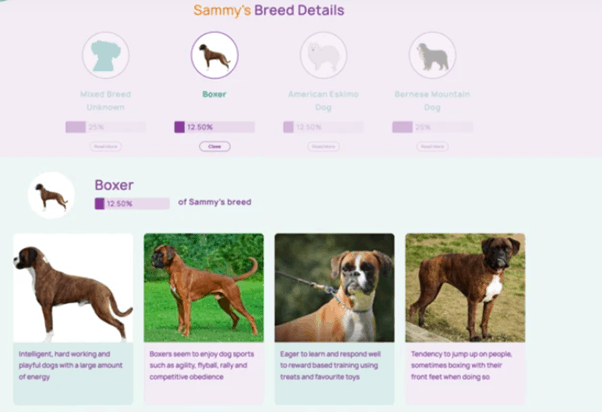 You can learn about typical behaviors of the different breeds, which is useful especially if you're training your dog or want to tailor their play. It explains which types of activities they enjoy the most and whether they respond well to treat or toy-based training.
It also covers tendencies like being over-excitable and jumping up at others, so you can understand why your dog behaves the way they do.
Comprehensive Health Risk Screening
Health risk screening is one area where Orivet excels. It offers kits for both cats and dogs, which screen for a multitude of health risks.
The dog kit looks at over 200 diseases, while the cat kit is more limited with around 15 health risks. That said, cat DNA testing is much less common so even having a DNA test that assesses your feline's risk of genetic conditions is a huge plus.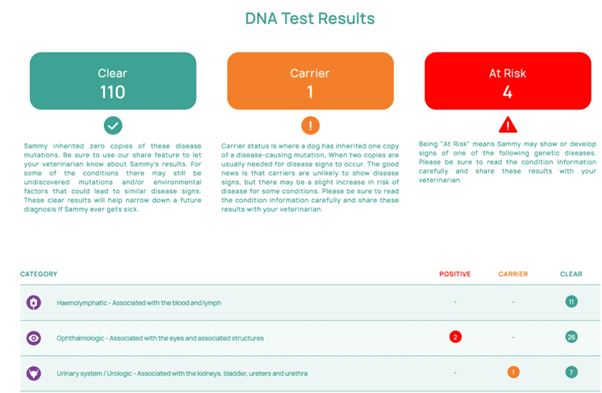 One thing that really makes Orivet stand out is that you can learn about your pet's risk of developing a condition, but you can also see whether they are a carrier of the genetic mutation that causes it. This means that even if they might never develop it themselves if they have a litter, they could be at-risk.
You can actually request further screening from your online dashboard for any of the health conditions your pet is at risk of, which is a first.
Screen Your Pet's Health with Orivet!
Online Life Plan & Task Manager
Orivet is unique in that it doesn't just offer a DNA test, it comes with an online dashboard that's designed for you to use for the entirety of your pet's life.
Your online dashboard allows you to input your pet's weight, daily feeding routine, activity levels, and even any specific health concerns you have. You can also input your veterinary clinic and the dashboard is designed to be shared with your veterinarian so you can both develop your pet's care plan effectively.
With your life plan, Orivet offers recommendations on routine check-ups, including reminders on when to schedule your pet's vaccinations or other regular treatments. And you also get tons of advice on nutrition, weight management, and health risks as they get older.
Breeder Testing
If you plan on breeding your cat or dog, you can buy specific tests designed for breeders rather than the usual health and breed DNA kits.
These Full Breed Profiles analyze only the traits and health conditions specific to the breed so, in this way, the kits are completely personalized to your pet.
With the results, you can determine which traits they carry or which health conditions they are at risk of, and may therefore pass onto their litter, which is invaluable for breeders.
You don't have to buy the full tests, either. If there's just one trait or health condition you want to screen for you, you can buy kits individually. And each breed profile page comes with a list of recommended tests, so you only buy the ones you really need for that breed.
They're quite pricey, but worth the investment for finding a good breeding match and getting a healthy litter. Although Optimal Selection also has many tests designed for breeders, and you actually get an online breeder finder tool with your test so you can find perfect matches for your pet.
A Long Wait, But Valuable
Orivet promises results in 2-3 weeks, but most of the time these are delayed. Sometimes it takes up to 6 weeks to get your report, which is disappointing. We wish Orivet were clearer about waiting times on their website.
You can use the kit status tracker to check your sample and follow it through the lab, though, so this gives you a good idea of when you might get your report. When it's ready, you also get an email to let you know.
The results are accessible from your online portal in an interactive, easy-to-read format. Navigating yourself around the dashboard is easy, with your report separated into key sections: their profile, health, and life plan. You can then dig deeper into these sections to get more insights.
The breed identification percentages can sometimes be a bit hit and miss. It's not uncommon for Orivet to identify a large percentage of your dog's breed as "unknown".
In fact, we've seen up to 50% of a dog's genetic makeup identified as unknown, which makes you question whether it really has as many breeds in the database as it says it does. For a more accurate representation, you may be better with Embark.
We loved the layout of the health risks section, as it clearly shows you which genetic diseases your pet is at risk of, are a carrier of, or tested clear for.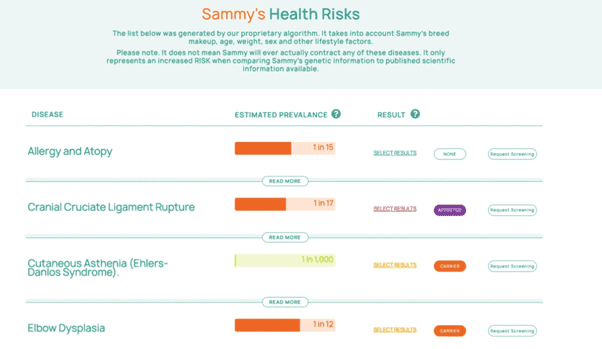 We noticed that next to each condition, there's a button to arrange further testing, which is definitely a unique offering. Clicking these buttons sends a request to Orivet or your actual vet (depending on how you ordered the kit), to get your pet tested for that specific condition.
Since you get a life plan with your results, a lot of your report is also editable. You can input things like your pet's weight, their feeding plan, any concerns you have, what treatment they're on, and your veterinary clinic.
The life plan also comes with a timeline that includes health alerts. This advises you on screening and routine checkups you need to organize throughout your pet's life, depending on their age. We think it's a great way of keeping track of your pet's health.
Get Comprehensive Pet Screening with Orivet!
A Wide Price Range for a Wide Range of Tests
What's particularly nice about Orivet is it has a huge choice of tests whether you're a pet owner, vet, or breeder, which also means a wide price range.
The pet owner tests start from just $40 for the cat health DNA test, while the dog kits start from $70 for breed or health testing.
The most expensive kit is the Geno Pet 5.0 at $170, but this includes full breed identification, health screening, and life plan, so it's well priced. The only thing that makes us question the cost, is the fact that it detects a lot of breeds as "unknown", despite having 350+ dog breeds in the database.
The breeder and veterinarian full breed tests cost around $140, which includes specific health and trait screening for whichever breed you pick. You automatically get a 10% discount if you register, order, and pay on Orivet's website, though. This drops the price to around $120.
You can also buy many of the health and traits tests individually. Most of these cost less than $50, so they're a good idea if you just want to quickly screen for any one thing.
A lot of the full breed profile tests already include the relevant individual kits, but we have noticed that some don't. So you might pay $120 for a full breed profile, then need to add another single assay test for $50 to test your pet for everything relevant to that breed. All products are shipped free of charge, and this includes returning your sample to the lab for processing, too.
Impressive, Quick Support
Orivet has a live chat service, but only from the breeder or veterinarian site. I reached out to them a couple of times, and I always received a response right away with all the answers I needed.
For pet owners, Orivet only has an online form function, but actually I was very impressed with the service. The first time I reached out, they responded via email in less than 2 hours. And the second time, it was only around 6 hours. It's not quite the live chat I hoped for, but I was impressed nonetheless.
I wish you'd get a veterinarian walkthrough of your results, or someone to talk to if you have any questions about your report. That said, your report is designed to be shared with your veterinarian anyway, so you can get support through them.
You can also contact the Orivet offices by calling or emailing them. They have offices in Europe, Japan, Australia, and the US.
Comprehensive Pet Insights, But Better Options
Orivet has some great tests on offer, and we love the fact it targets breeders, vets, and pet owners with a variety of different kits.
The tests are good value and include some valuable insights, including the life plan, which is not available anywhere else. You can also schedule further health risk testing from your dashboard – a feature we think a lot of pet DNA tests should offer.
The quality of Orivet's breed report does raise some questions, though. And it can't identify cat breeds at all, so you're limited to health testing only for felines. But it does have cat breed specific tests for breeders.
Results times are also a slight drawback, since it promises reports in 2-3 weeks but usually leaves customers waiting much longer.
Overall, though, Orivet offers good value for money, with comprehensive and unique insights about your pet.
For more accurate canine insights, we'd recommend Embark instead. And if you want to test your cat's breed, consider a test like Basepaws.
Test Your Pet's DNA with Orivet!
FAQs
Is the Orivet dog DNA test accurate?
Yes. Orivet results accurately determine your pet's breed and health risks. However, remember that accuracy can depend on a lot of factors, especially the size of the database. If your pet has a breed in their genes that's not recorded on the database, it will come back as 'unknown'.
Also remember that Orivet doesn't diagnose health conditions, but it gives you a good indicator if your pet is at risk of developing a disease or carries the genetic mutation that causes it.
How do I collect my Orivet DNA test sample?
Orivet pet tests require two saliva swabs. Collecting the samples is easy, just by rubbing the swabs on the inside of your pet's cheek.
Your kit comes with all the equipment you need to collect your sample, including a drying stand for the swabs and detailed instructions. However, if you purchase a test from the breeder or veterinarian site you will need to order the collection kit separately. It's free of charge.
How long do Orivet results take?
Orivet advises of a 2-3 week wait for your report. Your online dashboard comes with a kit tracker where you can check the status of your sample, and you get email updates along the way.
A lot of Orivet's results are delayed, though, and usually take up to 6 weeks so be prepared to wait a little longer.
How much is the Orivet pet test?
Prices vary depending on whether you're a breeder, vet, or pet owner. The pet owner kits start from as little as $40 for health screening, up to $170 for health and breed testing, plus a life plan.
Breeder and veterinarian kits are also around the $100+ mark, though you can get a 10% discount if you sign up and become a member. You can also buy individual kits for health and traits screening, which cost under $50.